The Perfect Light and healthy dessert  with a Flaky meringue crust and
This month's Recipe Redux theme was to make a pie, I love pie but, I am not a huge fan of pie crust, I'd much rather eat the filling of a pie and avoid the crust than eat it all together. One thing I do like is meringue cookies, so why not make that a crust for pie?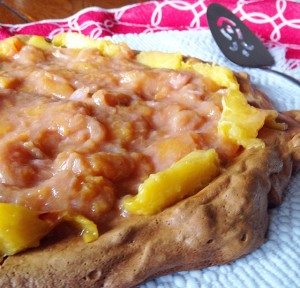 My Dad's Favorite pie is strawberry-rhubarb, so for Father's day, I  wanted to make him something special that he would love! We had an abundance of fresh peaches and rhubarb, but not strawberries! So we combined them for a delicious healthy dessert! I think the the combo of peaches and rhubarb is so much better than strawberries and rhubarb!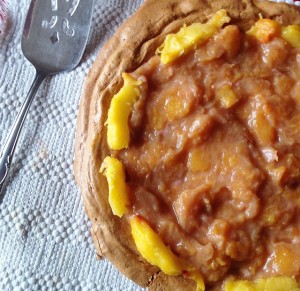 This recipe is Gluten free, paleo, refined sugar free, and downright delicious!
Peach-Rhubarb Pavlova
Pavlova
3 egg whites
1/2 cup coconut sugar
Compote
2 cups sliced and peeled peaches
1 cup chopped rhubarb
1 Tbsp. water
2 Tbsp. honey
Place egg whites in a mixing bowl and beat  until soft peaks form, about 5 minutes.
Add sugar  one tablespoon at a time while egg whites are beating, making sure each Tbsp. of sugar is dissolved before adding the next.  Beat until stiff peaks form.
Spread meringue into a circle on a cooking sheet lined with parchment paper.
Bake for 20-30 minutes, or until done (depending on oven).
For compote, add ingredients in a saucepan on medium-low heat.  Let simmer for  15 minutes, stirring every few minutes.  Let cool.
Spread compote on top of meringue and serve immediately, if not serving right away, add compote on top until ready to serve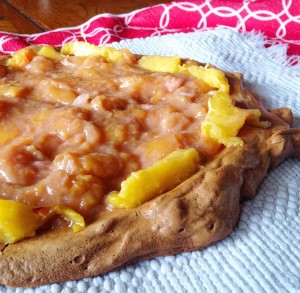 What's your favorite kind of pie?
Do you like crust or nah?
Happy Father's Day!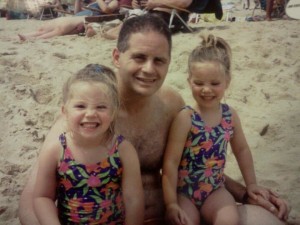 Looking for more Healthy and Delicious desserts?  Check out these recipes!