These Paleo Maple Banana Donuts with a Maple Glaze are a delicious and healthy breakfast with a large mug of coffee! They are also Paleo and Gluten-free!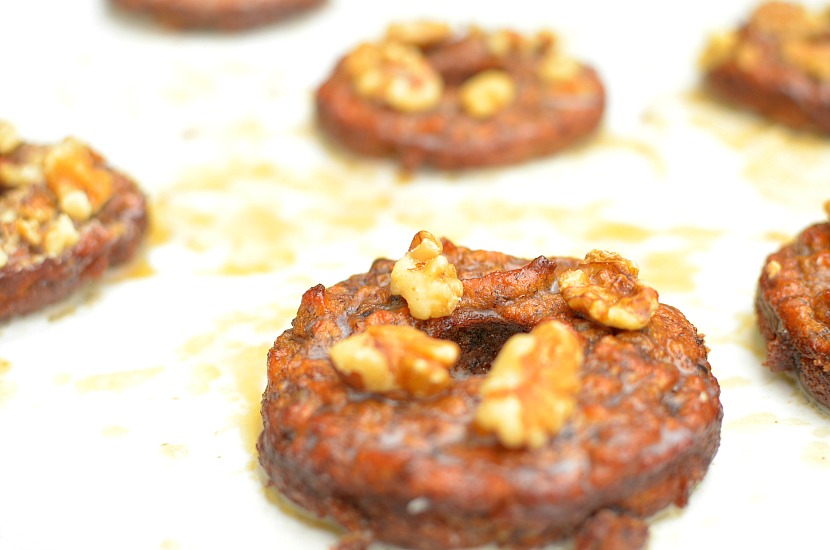 🍩 worry, be happy.  Sorry for the corny intro, but it had to happen because DONUTSSSS.  Today I'm sharing with you a recipe that I actually posted on the blog in summer 2014 (aka one of the first recipes every posted on Athletic Avocado).  After seeing how popular they were with less than ideal pictures, I went on a quest to recreate them.  The first pictures back from two years ago didn't do justice to present how good these donuts actually are.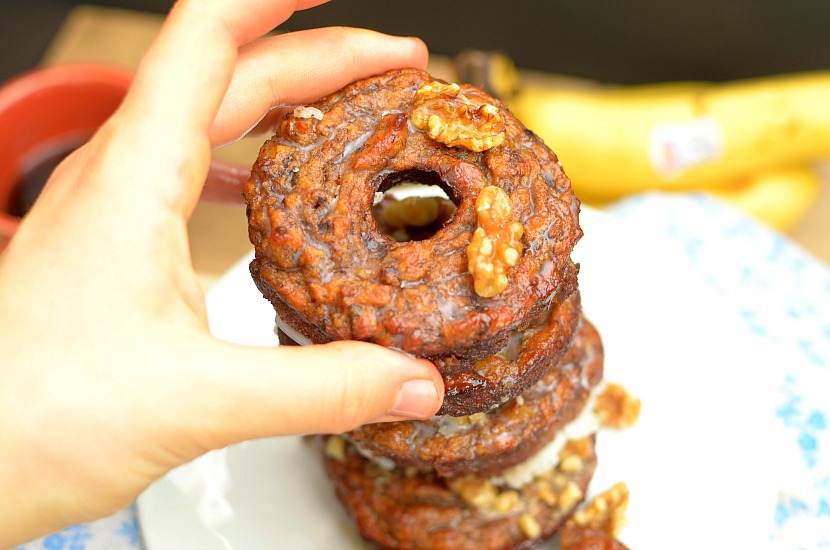 You pretty much have to be insane if you don't like donuts.  Like 🍩 talk to me if you don't like them, we can't be friends (sorry I did it again).  Jk we can be friends, but you're missing out big time.  How does one live without eating donuts?  That's a question for another time.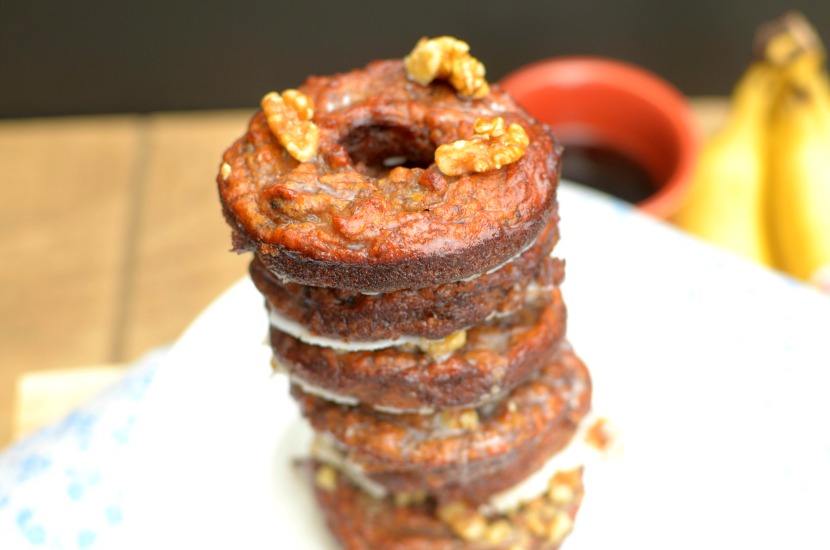 But today lets talk about the magic of donuts.  Personally, I'm all about the glazed ones.  The frosted are just ok, the filled ones are decent, and the sugar coated are meh.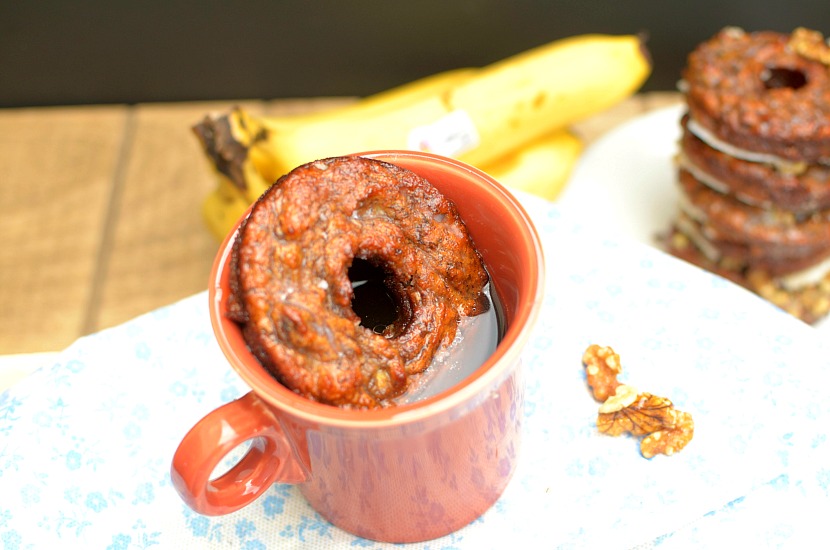 I remember when my eyes would light up with joy when I sunk my teeth into a glazed donut.  It just melts in your mouth, then the fluffiness of the donut takes the show away.  Ahhhh I'm drooling.  But regular donuts are fried and sugary and  give me no energy what so ever.  These donuts on the other hand, different story😉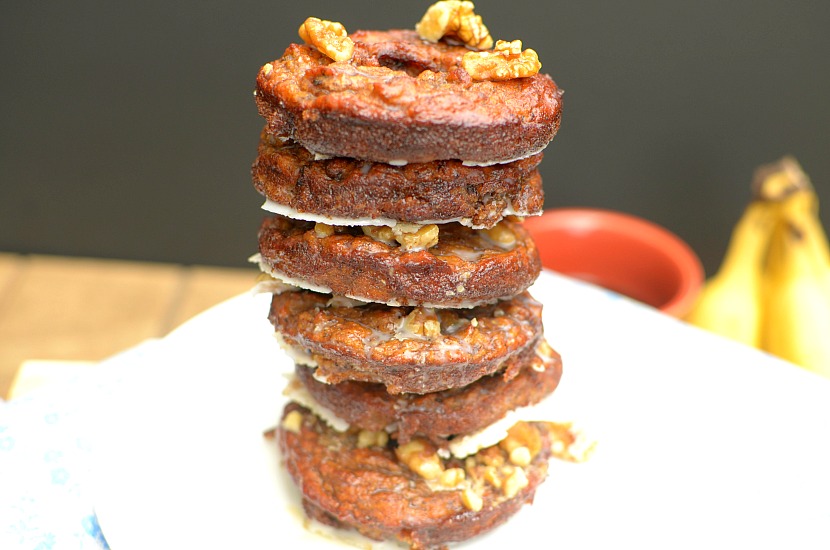 These donuts are baked, taste like banana bread and have a maple glaze.  No refined sugar, grains, gluten or oil in site.  Now you may be thinking, "then how do they taste good?"  Trust me friend, they'll wow you with taste and are able to keep you full so you won't crash mid afternoon.  Thats the magic of using real unprocessed whole food ingredients.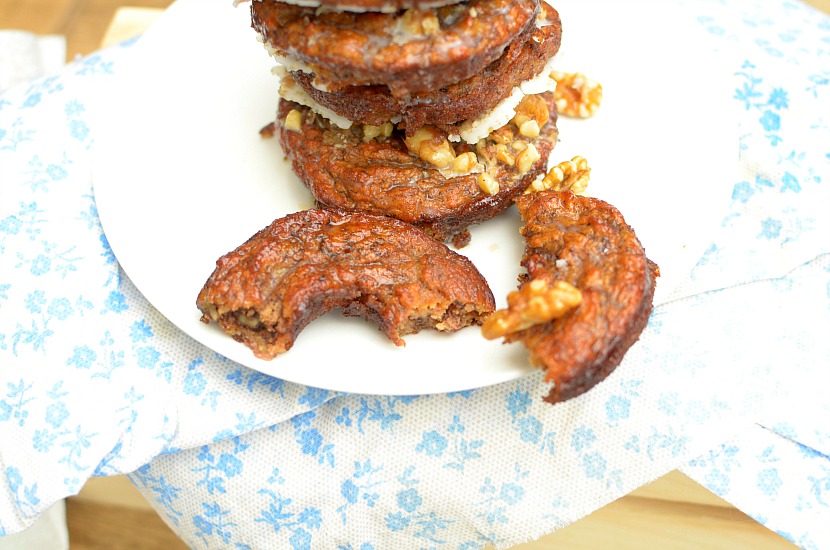 With only about 96 calories per donut, you can have two or three without feeling guilty.  Take that Dunkin!🙅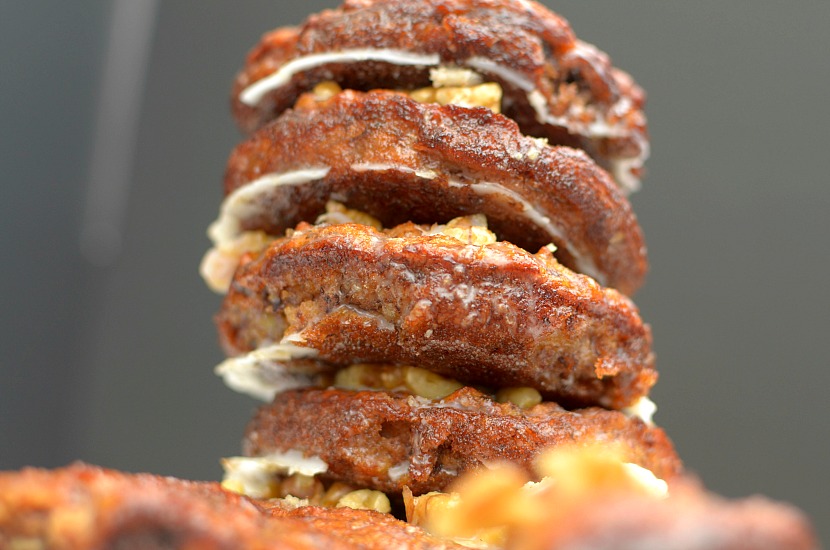 Paleo Banana Walnut Donuts with a Maple Glaze
A sweet maple glaze encases a soft banana donut and is studded with toasted walnuts!  Did I also mention that they're healthy?  No need for Dunkin Donuts anymore!
Paleo Maple Glazed Banana Walnut Donuts
Ingredients
1/4 cup coconut flour
1/2 tsp. baking soda
1/8 tsp. ground cloves
1/8 tsp. nutmeg
1/2 tsp. cinnamon
1 1/2 ripe bananas, mashed
2 eggs, beaten
1/2 tsp. vanilla extract
1 1/2 Tbsp. maple syrup
1/2 cup chopped walnuts, toasted
Glaze
1 Tbsp. coconut oil, melted
3 Tbsp. maple syrup
Instructions
Preheat oven to 350 degrees.
In a large bowl combine flour, baking soda, cloves, nutmeg and cinnamon. Mix well.
In a separate bowl, combine banana, eggs, vanilla and maple syrup. Mix well then add to flour mixture.
Add in chopped walnuts and stir batter well until evenly mixed.
Spray cooking spray in a donut tin and add in batter. Bake for 20 minutes, or until done.
Let cool and take out of donut pan.
Enjoy!
http://athleticavocado.com/2014/12/05/paleo-maple-banana-donuts/
Like This Recipe? Pin For Later!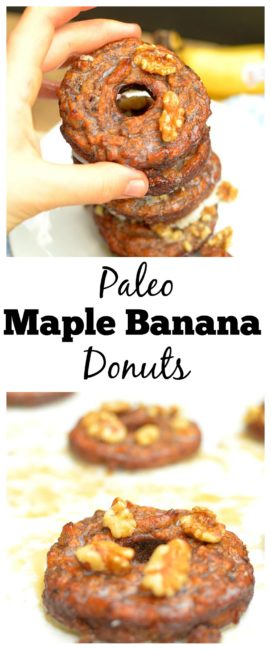 You May Also Like These Recipes!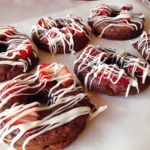 Paleo Chocolate Strawberry Donuts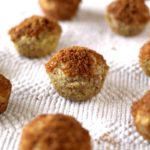 Banana Snickerdoodle Donut Muffins
---
Questions of the day!
What's your favorite kind of donut?
Do you dunk your donuts in coffee or nah?